Post by Dancing Puffball on Sept 6, 2019 14:55:14 GMT
Yaaaaaaaaay!
So the server's been growing for around a month + 2 weeks. We have 3100 members. Here are most of the total invite stats, with some commentary below for context.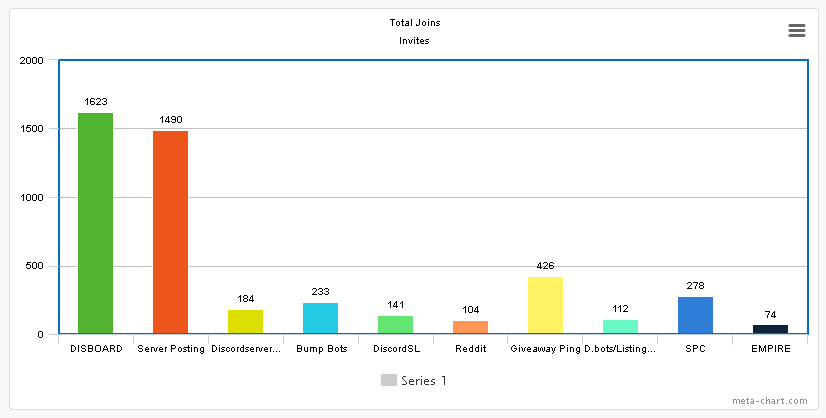 DISBOARD:
We've been using this the entire time we've advertised. We bump every 2 hours and use strong tags, and we are rated.
Server Posting:
We've been using this the entire time we've advertised. We post on a variety of servers, some of which have been CallMeCarson's Discord Cult, Sound's World, AYS, SPC, Discord Emoji & Servers, and many many more.
Discordservers.me:
This is a premium membership which we've been using almost since the beginning of our growth. The premium cost $15 per month. The joins come passively and don't require you to do anything other than wait.
Bump Bots:
These are all premiums coming from the collective joins of Bump Central, DSC, Open Bump, Liam, and some from ServerMate and a few from Partner Bot. Some of the premiums came late. If I had all premiums since the beginning the total may have been close to double.
DiscordSL:
We've had DiscordSL's autobump for a while. It's only $10 per month, so unless you can't spend any money at all, it's a decent choice.
Reddit:
Free. On and off reddit posting. If we had posted every day our joins from it would probably be nearly twice this much.
Giveaway Ping:
From Shrek's Swamp and Open Advertisements. These were expensive, and don't guarantee member engagement, so I wouldn't recommend them unless you need a high member count.
Discordbots.com/servers
&
Discordlisting.me:
This one pertains to the combined efforts of Discordbots.com/servers and Discordlisting.me premium. They both have given me 50+ members so far.
SPC:
This consists of being a part of Sc0rpi0n's alliance combined with the paid shoutout w/ other ping and one other purchase that I made from SPC. The alliance was free and brought me over 100 joins.
EMPIRE:
This consists of the combined efforts of paying for a spotlight at EMPIRE and being a part of the EMPIRE alliance.
What I don't recommend


Stay away from anyone selling you everyone pings on their servers. These do not work. I have tried these with 4 different servers. You will be losing a lot of money with these deals and gain little.
Highly recommended paid services
If you can spend money, use Discordservers.me and DiscordSL. You can get a lot of joins from these two for a combined price of just $25.
Free Stuff


Posting constantly and relentlessly on ad servers + DISBOARD + Reddit + DiscordSL will grow your server very quickly and for free.
For guides on how to optimize your growth from DISBOARD, Discordbots, Reddit, and other free services, view my growth tips subforum.



DISBOARD Optimization
Discordbots.com/servers Optimization
Some servers to advertise on
Reddit optimization
Some other information
List of listing websites
How to start growing when you're very small
Some preparations before growth
How to add self-assign roles to your server to make it fun