Post by Dancing Puffball on Aug 5, 2019 23:00:29 GMT
Discordlisting.me
is a server listing website which currently hosts over 504k Discord servers. The website used to be called 'http://discordlist.me', but the developers had to switch domain names due to 'internal team conflicts', which caused them to lose much of their traffic. Despite the damage done by the move, the developers have been passionate about improving the website's SEO, and their efforts have shown to be quite successful! According to
similarweb
they have been steadily and consistently improving their traffic proceeding March 2019's statistics. Similarweb's traffic overview cuts off at June, in which it shows 310k visits for the month. The
inquisitive
and
adventurous
side of me took control, so I purchased the top right corner spot for $35 per month. I just really wanted to see how the site would perform with its new and improved flow of traffic.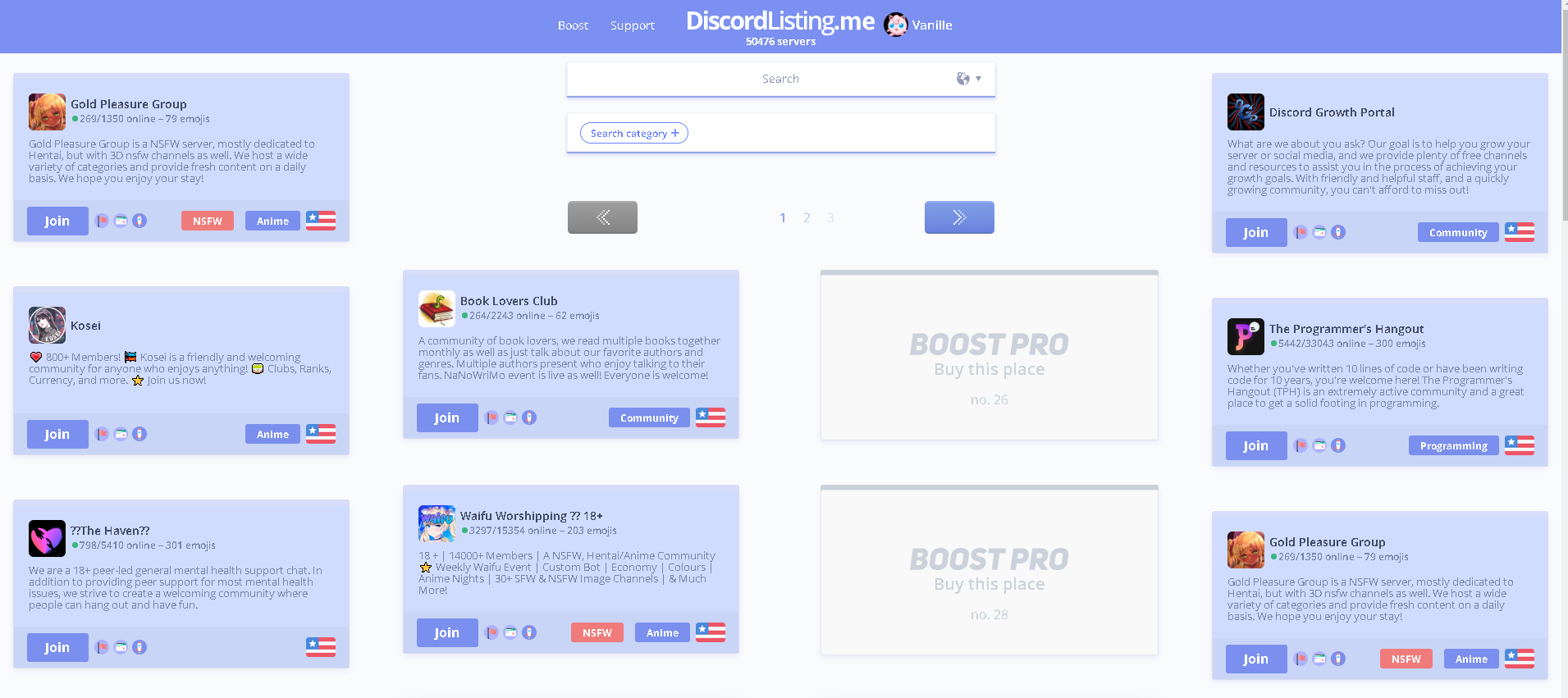 So how many visits have I received so far, compared to other premiums? Well, that experiment is the reason I made the purchase. I wanted to see how the website's steadily improving traffic would translate in server joins. It has been
5
days so far, and as of today I have received...

8 joins.
8 joins in 5 days of premium with no bump required. For comparison, Discord.me will typically provide me with about 10 joins per day (providing I bump on time every 6 hours), and it currently costs $55 per month. It's a significantly better value but far more stress indecisive as it requires constant and consistent bumping to maintain position. DiscordSL premium is autobumped, and I typically receive around 2 joins per day from it. DiscordSL premium cost me $10 per month and I personally recommend it. Discordservers.me cost me $15 per month, and I receive somewhere around 2 or 3 joins per day from it. I'm not entirely sure how accurate these estimates are, but you can
view my growth stats
here.
So discordlisting.me definitely brings in users, but it's a bit pricey and unless you have a lot of money to spare, it may be best to hold off for a while until the website continues to improve its traffic and use something different like Discordservers.me or DiscordSL premium instead
(I personally recommend Discordservers.me the most)
. If you want to support Discordlisting.me, you can order a boost plus. What I recommend however is that you may want to bump on the website often, and if you begin to notice and increase in joins over a period of time, then you may want to consider purchasing premium, otherwise I wouldn't personally recommend it yet. I know that money is an issue for most server owners, especially those of you who are very young.